About: August 20th, 2016
A Current Synopsis Of Coherent Breathing by Stephen Elliott
COHERENCE(TM) provides tools and methods that facilitate health and well-being via Coherent Breathing(TM) , and its results, increased circulatory effectiveness and autonomic nervous system balance. These tools and methods are the result of a breakthrough in the understanding of the subtle relationships between breathing, circulation, autonomic governance, and heart rate.
IMBALANCE

BALANCE

discomfort

physical comfort

comfort

tense

physical tension

relaxed

anxious

mind state

at ease

muddled

thinking

clear

extreme

sensibilities

tempered

impeded

mind-body communication

free flowing

weak

short term memory

good

reduced

sphere of awareness

expanded

reduced

intuition

increased

reduced

openness to new ideas

increased

defensive

interpersonal communication

accepting

acid

serum pH

balanced

higher

average heartbeat rate

lower

much higher

heart duty cycle (work)

much lower

higher

blood pressure

lower

heart rate variability amplitude

maximal

lower

blood oxygenization/gas exchange efficiency

maximal

breathing rate
FIGURE 1: Psycho-Physiological Correlates of Autonomic Balance (These are also the correlates of resonance but there's more.)
When we breathe with rhythm and regularity, the heart rate synchronizes with respiration. The reason this occurs is that respiration aids in circulation, facilitating venous flow during inhalation and arterial flow during exhalation, heart emphasis shifting from right to left with each cycle of respiration. This synchrony results in a blood wave that enters the lungs during inhalation and exits the lungs during exhalation. When we observe this wave in the capillary circulation it looks like this: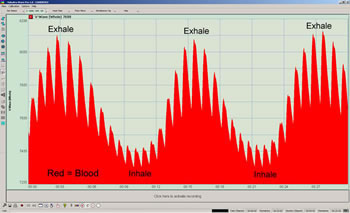 The Valsalva Wave observed at the earlobe
When we view it in the venous circulation, it looks like this: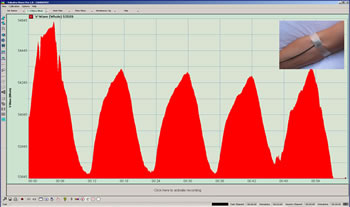 The Valsalva Wave observed at the medial cubital vein
When breathing occurs in this way, a number of things happen, the foremost being that circulation phaselocks with breathing. Secondly, the heart rate synchronizes with circulation, heart rate increasing during venous emphasis and decreasing during arterial emphasis. If we look at the relationship between blood volume and heart rate (assessed at the earlobe), it looks like this: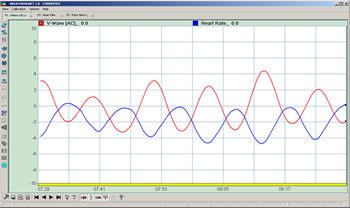 Heart rate phaselocking with the Valsalva Wave (earlobe)
As breathing approaches resonance, optimal rate and depth, amplitude of both Valsalva Wave and heart rate increase (to a point). Also, their (inverse) correlation increases such that they appear 180 degrees out of phase, heart rate changing phase just slightly after the Valsalva Wave. This is generally considered to be the delay between the blood wave rising and falling and the autonomic nervous system response to the blood wave via baroreceptor action. In other words, as blood volume and pressure rise, the heart rate slows down. As blood volume and pressure fall, the heart rate rises.
This pattern of "coherence", yields the psycho-physiological correlates noted above. The present perspective on why these advantages accrue is that:
a) Breathing plays a large role in circulation itself.
b) It is highly desirable that breathing play this role in erect vertebrates where the necessity exists that blood flows upward against gravity, both from the feet and hands and to the head and brain.
c) Suboptimal action of the diaphragm and related thoracic pressures impede blood flow, overworking the heart and vascular system in order to maintain viable flow and pressure.
About Stephen Elliott:
Stephen Elliott is developer of the Coherent Breathing method and the founder of COHERENCE LLC (founded in 2004). In addition to many patents in the field of telecommunications, Stephen holds US patents on these and other COHERENCE inventions:
1) Monitoring and synchronizing the breathing cycle with the heart rate variability cycle,
2) Detection and biofeedback of the Valsalva Wave,
3) Oscillometric detection and measurement of the respiratory arterial pressure wave,
4) A fundamental musical interval for heart rate variability synchronization.
Stephen is the principal author of The New Science Of Breath with Dee Edmonson, Fellow BCIAC-EEG, Coherent Breathing - The Definitive Method, and Wuji Qi Gong & The Secret Of Immortality with Dr. Meng Sheng Lin.
Prior to founding COHERENCE LLC, Stephen spent 25 years in telecommunications research and development. He as also been an avid student and teacher of yoga and Taoist arts for health, well-being, and longevity for several decades.
Stephen offers instruction in numerous life science topics and is available for workshops and seminars. He also maintains a private practice at Acupuncture Center in Richardson, Texas.